Dare to Explore! – Traineeship Program
The Dare to Explore! Traineeship Program is an integral part of the EFI-IFSA-IUFRO Capacity Development Project, which offers four specified, 3-months traineeship opportunities each year for 2019, 2020, and 2021. The trainee positions are intended to familiarize students of forest(ry) programmes with work at the science-policy-interface at the international level, including research, communication, and policy-relevant activities.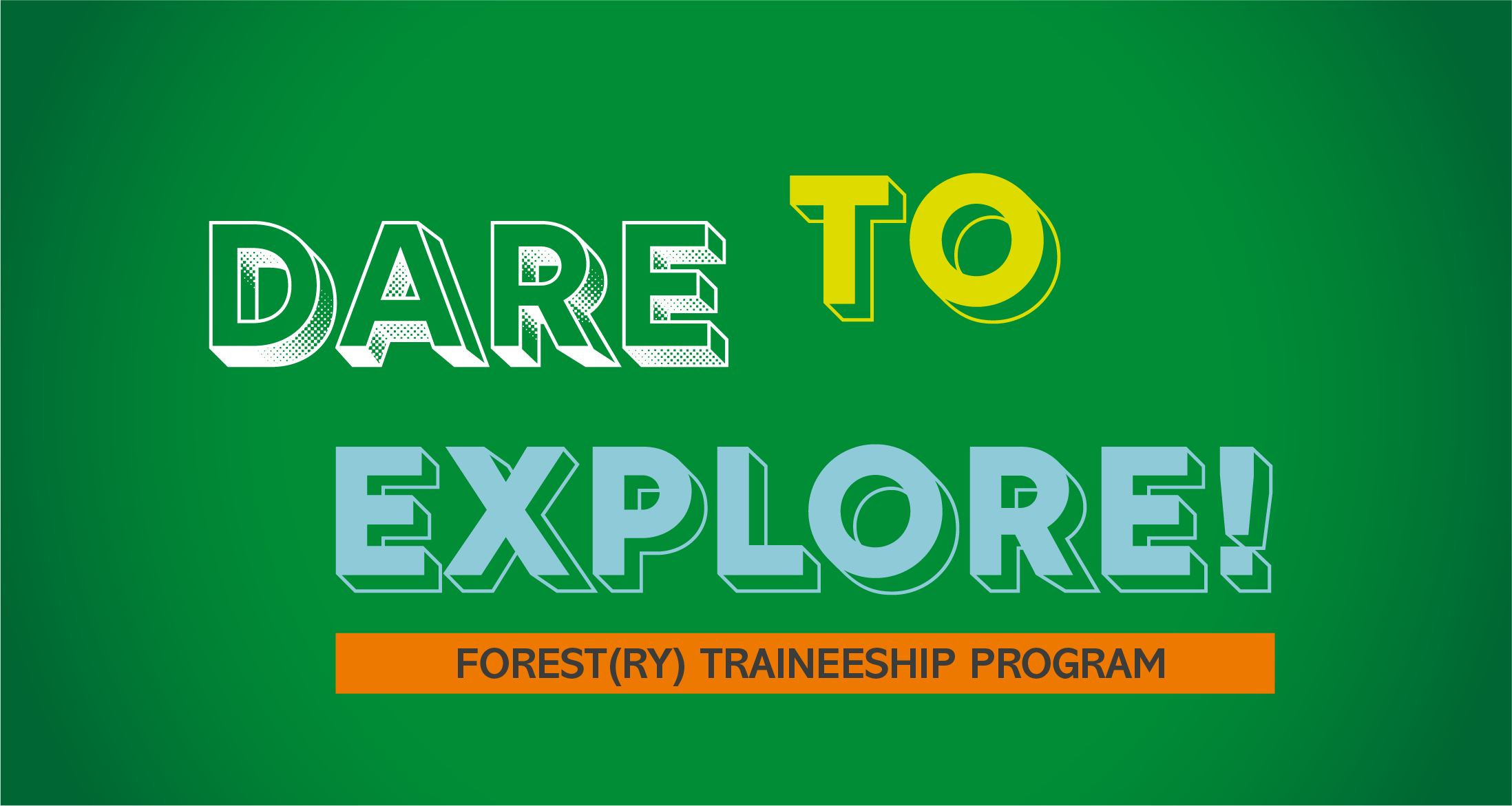 2021 – Call closed, selection ongoing
See below the open call 2021 including outlines of the traineeships:
Frequently asked questions (FAQ)
You do not need to be a member!
Being a member of an IFSA local committee will be counted as a small asset in the application. I.e. in the last call we had 2 candidates that where member and 2 that weren't being the successful applicants. So, it is no hinderance if you are not a member.
However, it might still be interesting to you to learn more about IFSA, since it is an amazing Organization connecting students of forestry and forest-related courses from all over the globe. IFSA offers many exciting opportunities like excursions and participation in big forest conferences.
All students and recent graduates (within 1 year after graduation) of Universities with an IFSA LC are eligible to apply for the Dare to Exploer! Traineeship program.
Please see the Open call for a list of all Universities meeting the criteria.
For the current open call the timing of traineeships is not too flexible. However an adjustment of a few weeks is always possible!
DTE_03 with FSC is a remote traineeship.
For the other traineeships we still hope them to take place on site. To give you the full experience.
However, with the current COVID situation it is possible that  traineeships will need to take place remotely.
The decision for remote vs. physical traineeship will be done on a case-to-case basis; considering the situation in Germany and in the home country of the successful applicants.
2020


The

2020 (well early 2021) DTE! trainees were:
Ajdin from Bosnia and Herzegovina on "Wood biomass for energy production in Serbia: Integrated approach to mitigate climate change, generate employment, and restore biodiversity" remotely at CIFOR/ICRAF in Bonn, Germany

Vera from Germany "Urban forestry – repository of case study development" on remotely at EFI in Bonn, Germany

Hiromi from Japan and Junaid from South Africa on "Science-Policy Interlinkages" remotely at IUFRO Headquarter in Vienna, Austria

O

peyemi

from Nigeria on "Changes in forest-related employment" remotely at EFI in Bonn, Germany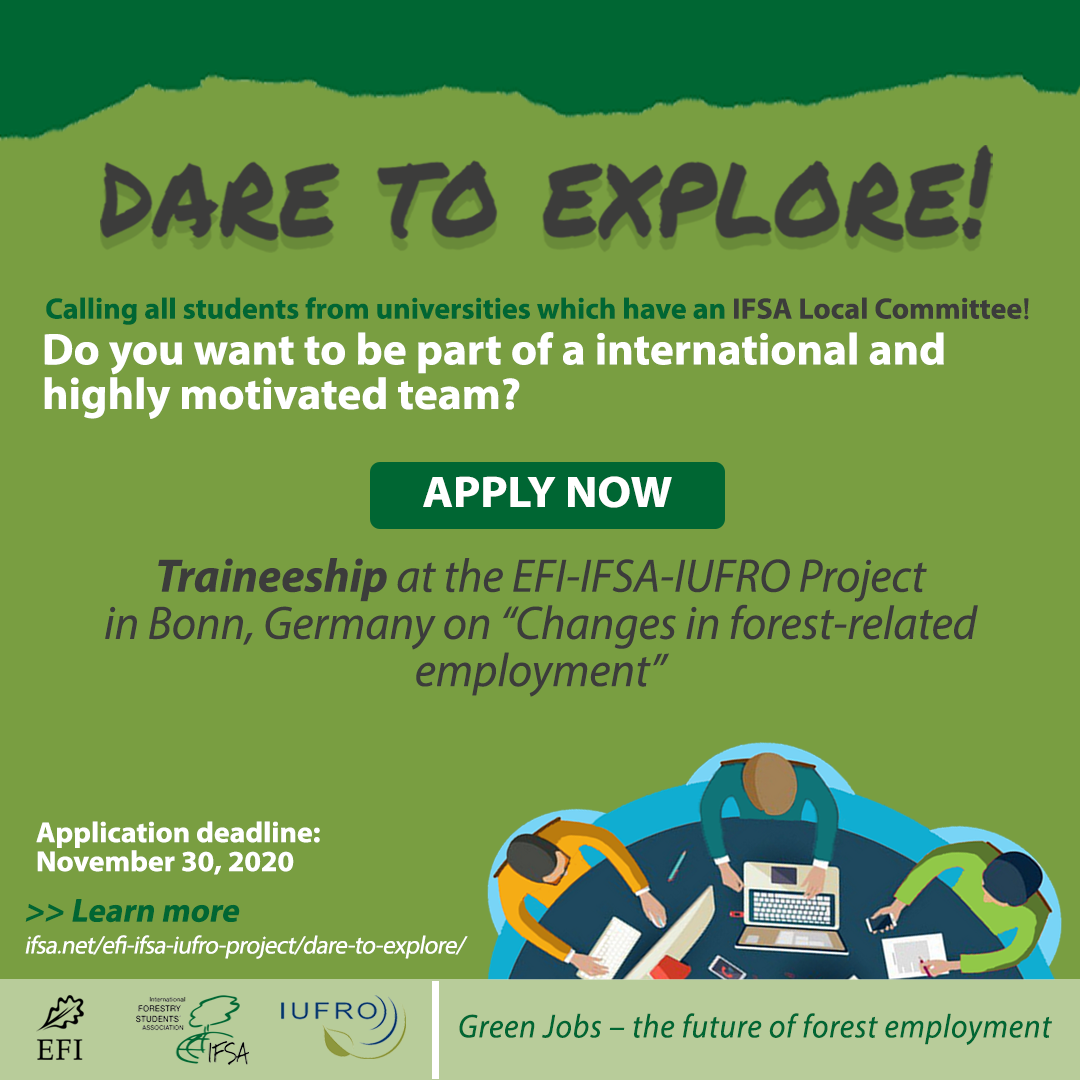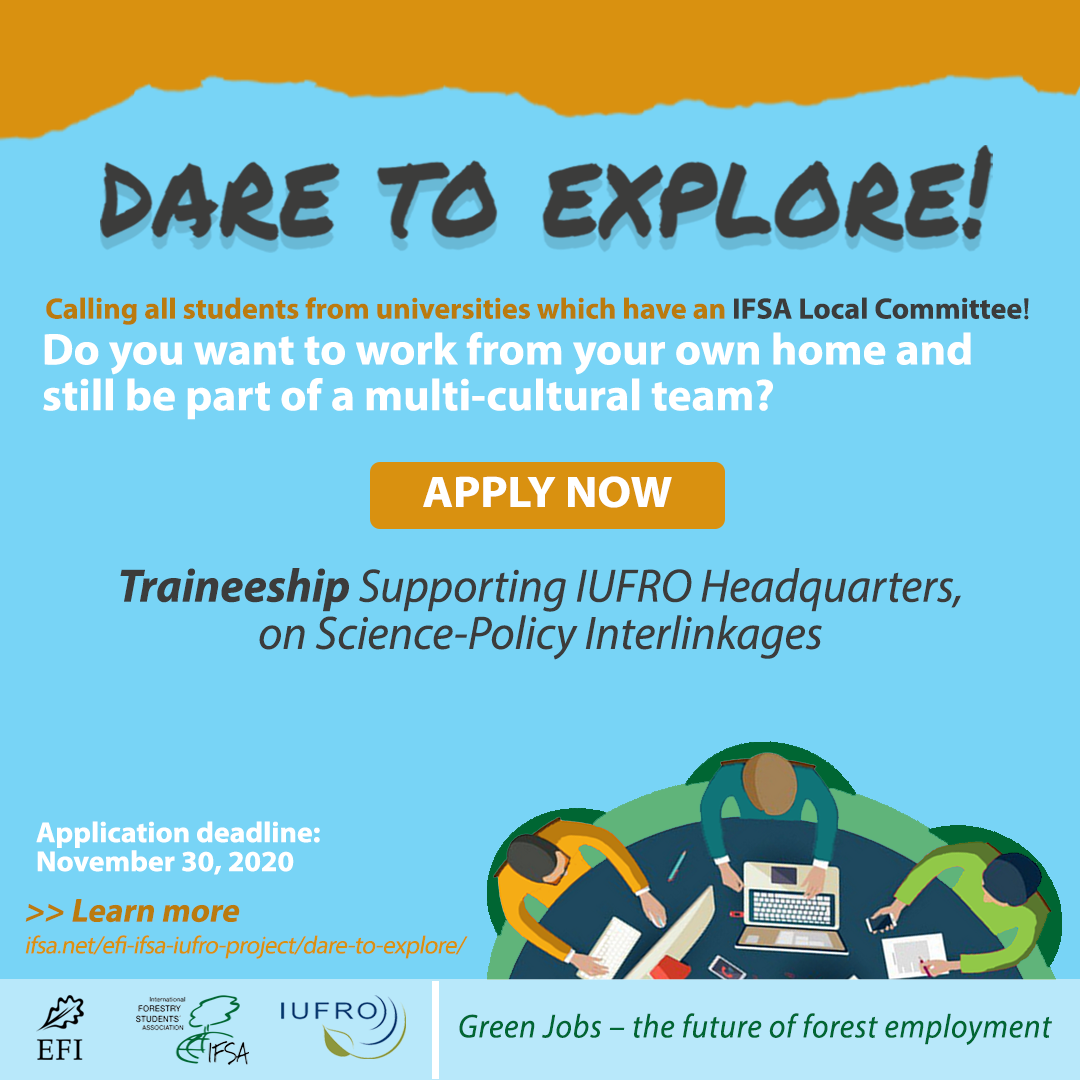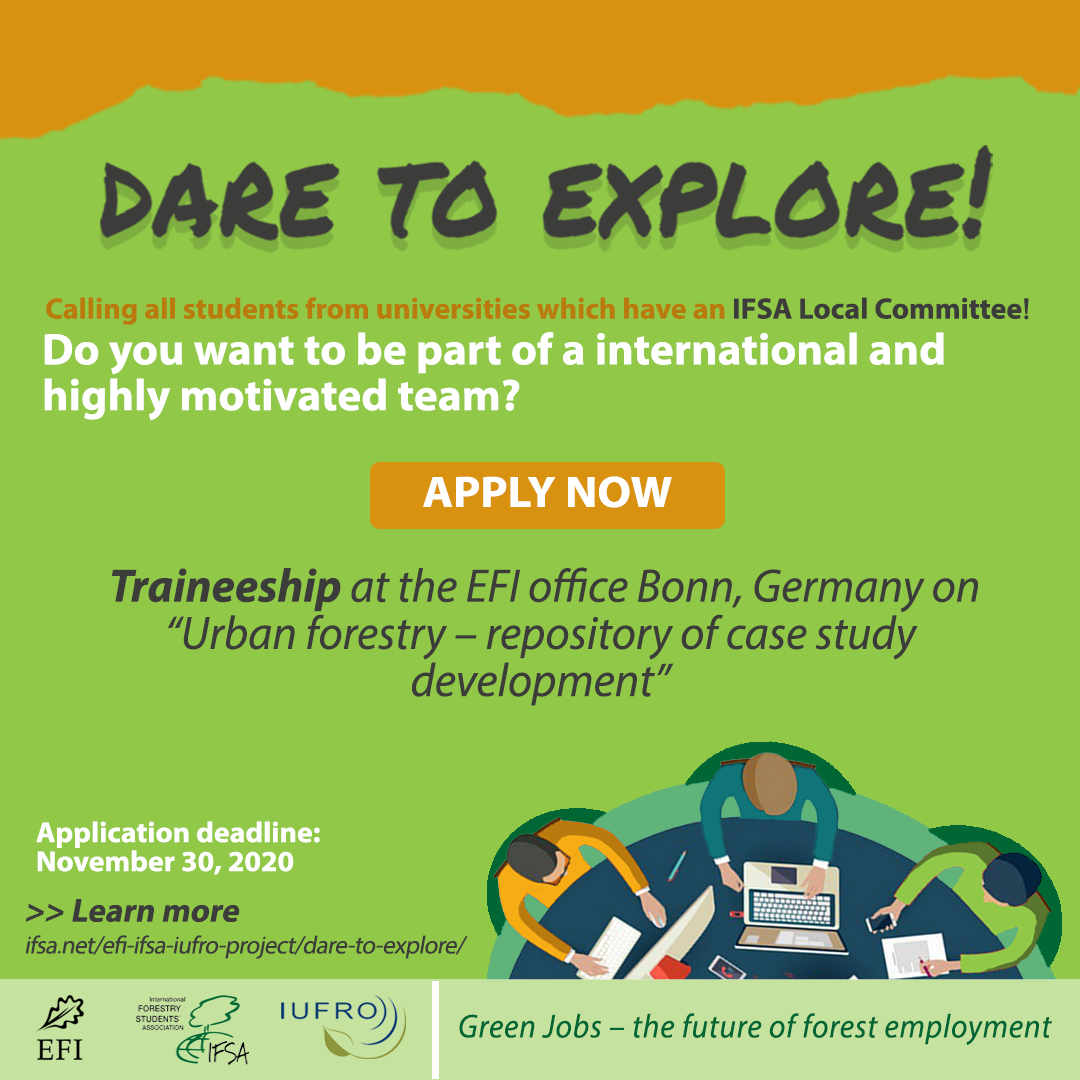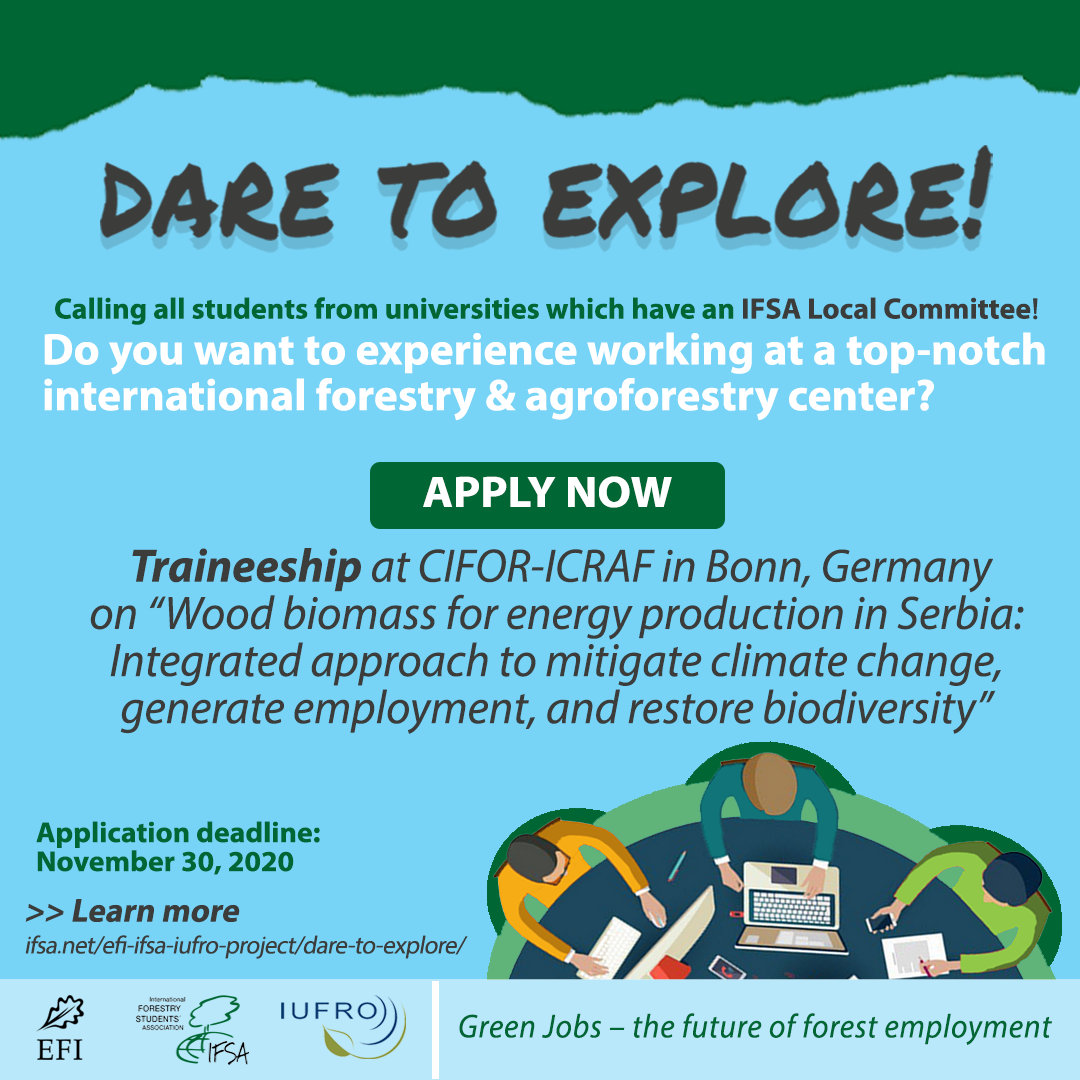 See below the open call 2020 including outlines of the traineeships:
2019
In 2019 our DTE! trainees were:

Please see below the open call 2019 including outlines of the traineeships.
Meet our Dare to Explore! trainees and learn about other Intern- and Traineeships IFSA has supported: